Pick any four (4) 2020-21 Cleveland Monsters Home Games and receive:
Free Monsters holiday ski cap (one per seat purchased)
$20 in Scene75 game play cards per every two (2) seats purchased
Free Monsters Ice Scraper (one per seat purchased)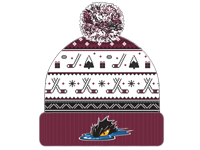 Your hats, ice scrapers and Scene75 game play cards will be shipped to you in an exclusive Monsters holiday gift box.
Pricing below reflects the total cost of one (1) ticket to four (4) games.

To purchase, select your desired seating location and then select how many seats you would like for each of your Four (4) games. You can select up to 4 seats to your four (4) games.

A Monsters ticket sales team member will contact you to confirm your purchase. Upon the release of the 2020-21 Monsters schedule, you will be able to select your specific games and actual seating locations. All games and locations are based on availability.