A Firsthand Look Back at the 2016 Championship Parade
Jun 22, 2020
ORIGINALLY PUBLISHED JUNE 22, 2020
---
Four years ago, over a million people made their way into downtown Cleveland to join a parade with two champions: the Cleveland Cavaliers and Lake Erie Monsters. After securing the Calder Cup with a 1-0 overtime victory in front of 19,665 people on June 11, 2016, the Monsters celebrated again with fans and the then-NBA Champion Cavs throughout the parade route downtown.
The moment was a unique opportunity providing players and staff with unforgettable experiences and memories. Former Monsters players Oliver Bjorkstrand and Trent Vogelhuber took some time to reflect on those moments along with Monsters Broadcaster Tony Brown and Monsters President Mike Ostrowski.
---
What was it like for you to join the championship parade in front of an estimated 1.3 million people?
Bjorkstrand: It was a very cool experience to be a part of the parade. I didn't know what to expect since the parade was centered around the Cleveland Cavaliers championship, but the crowd cheered us on, so we felt they cared about our championship as well. It was very cool to be a part of a parade like that!
Vogelhuber: It was obviously a once in a lifetime experience to also be included in the Cavs parade after we had both won our championships. It's a moment that I will never forget.
Brown: The entire day was totally surreal to me. I can honestly say that I had never seen a mass of humanity like that before in my life – people stretched literally as far as you could see down every street and in every direction downtown. Being on the first float in the parade too alongside so many amazing team members with whom we worked so hard during that run…it was an incredible day and a total reward in every sense of the word for our fans, staff and all involved.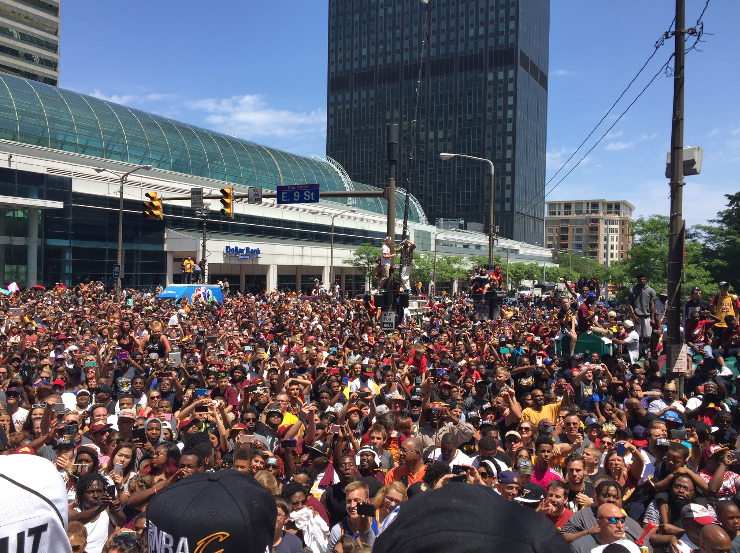 Ostrowski: It was quite simply a dream of a lifetime. It was just so surreal to know that we had just won two championships in an 8-day span, and that we were now all together to celebrate them. You always dreamed what it would be like and you've watched countless championship celebrations in other cities on tv, but to actually be in your own city, celebrating two championships that Cleveland just won after more than five decades, was just an incredible feeling. And adding to the experience was the great fortune of having my wife and kids with me to celebrate this moment. It was simply amazing.
What was your favorite or most vivid memory from the parade?
Bjorkstrand: My favorite moment and something I'll never forget is just looking out in the crowd and seeing all the people celebrating the championships!
Vogelhuber: The most vivid memory I have is looking down the streets from the float and not being able to see the end of people in the distance. I've never seen so many people in one place.
Brown: What I always think about was just getting to share a day like that with fellow staff members that work so hard behind the scenes, often without much recognition. Also, I can honestly say that getting to hoist the Calder Cup above my head and see a literal sea of people roar back in response with total joy and celebration was as surreal and thrilling as it gets. I kept asking myself if this was really happening!
Ostrowski: I think it was probably just the sheer amount of people, EVERYWHERE. I just remember right before the parade started, we were waiting on the float in front of The Q on E. 6th Street, and you could see up on Huron all of the people coming out of the woodwork in parking garages and hanging out of windows to get a glimpse of the parade and just to be a part of it. Then when the caravan actually got going and we took the left onto Huron and headed west, just looking out through the streets and up at the Terminal Tower, and seeing the confetti in the air, the pure jubilation from everyone and the overall just the mass of humanity everywhere was incredible. Just being a part of it was something I'll never forget. That first full view of all the people downtown literally took your breath away for a moment.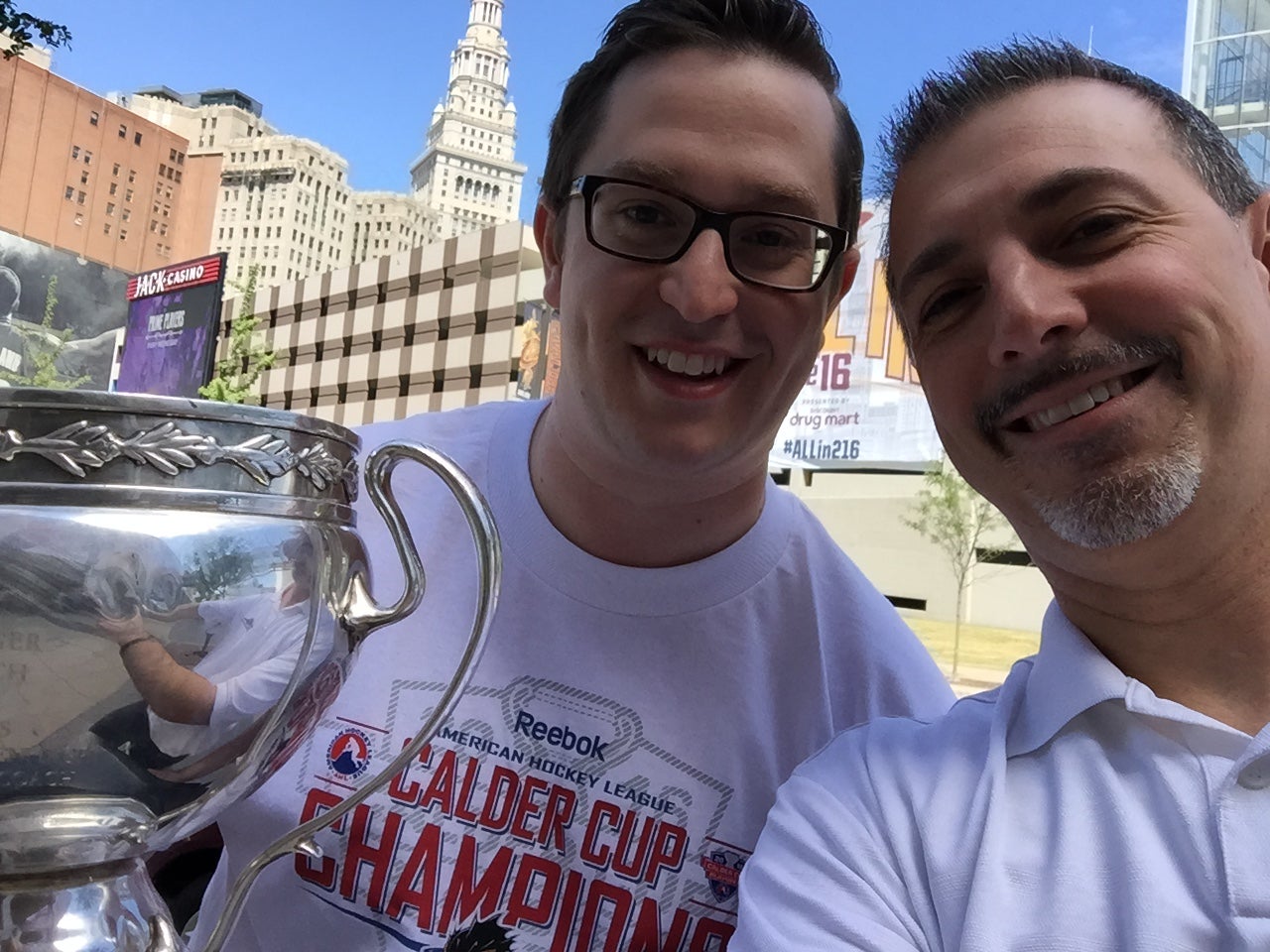 What was the weirdest, funniest, craziest thing you saw happen that day?
Bjorkstrand: Nothing comes to mind… when I think back, I remember holding the Calder cup up in front the big crowd and the Cleveland fans cheering on. Special moment! Hope I get to experience that again!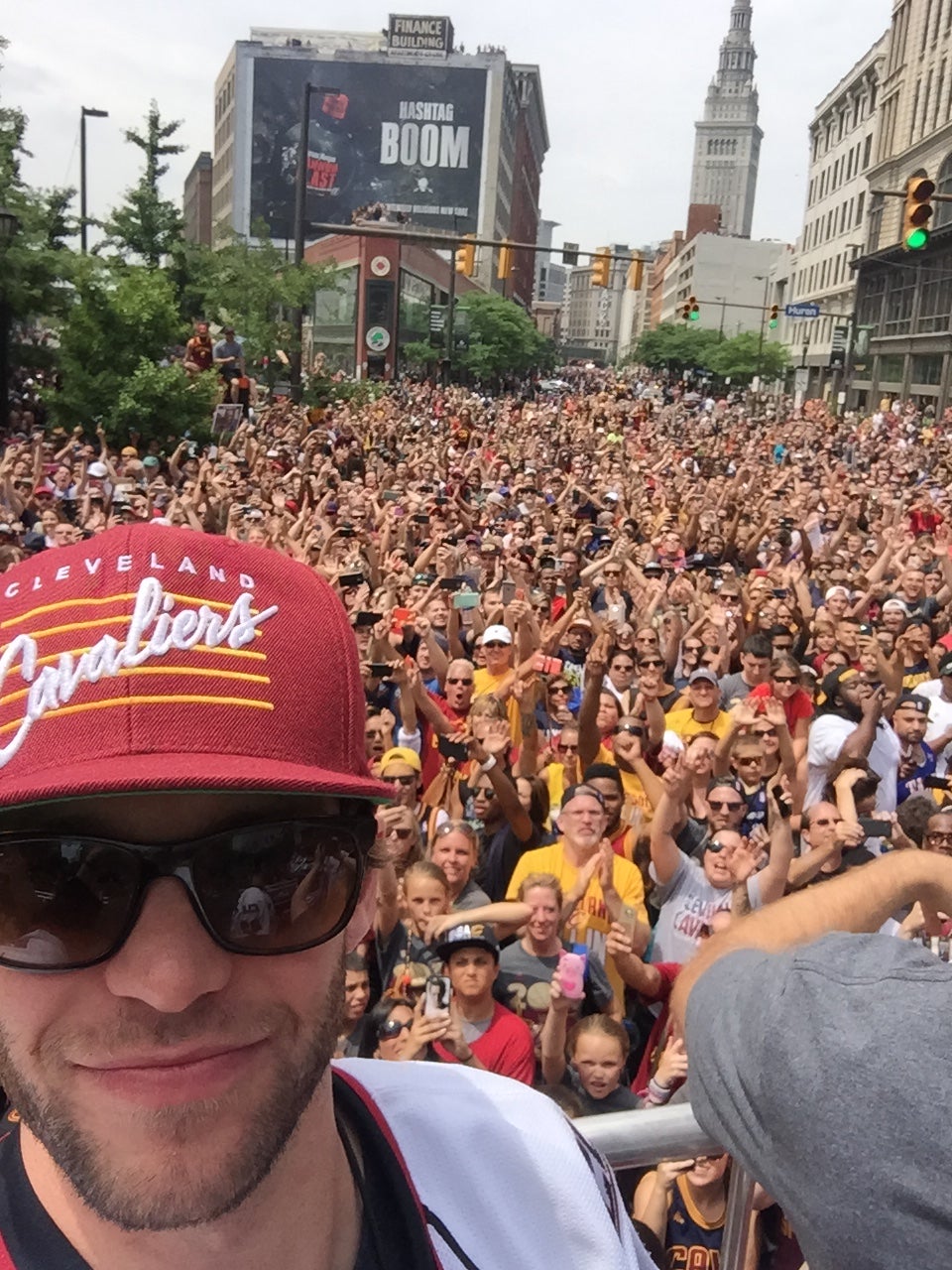 Vogelhuber: The craziest thing I saw was the people who had climbed up the parking garage and were hanging out of it five or six stories up, sitting on ledges just to get a better view.
Brown: I remember seeing people literally risking their lives for a better view of the festivities – hanging off parking ramps, light poles, on top of bus stop shelters, climbing buildings – it was pure craziness! Every surface was covered in people as far as you could see. Nuts!
Ostrowski: On the parade route, as mentioned it took a while with all of the people, plus it was a very hot day. I think the whole parade took about three hours. Anyways, my younger son Jake was eight years old at the time and he got sleepy even though there were all kinds of craziness going on. He ended up falling asleep on the float for a bit and as we were stopped at one point, one of the fans out in the crowd literally came up to us and said, "hey little man, this is the first time we've won a championship in 52 years and you are sleeping, wake up!" Well my son heard him and opened his eyes for a quick moment, but then went right back to sleep for another 30 minutes. We always laugh about that story.
What lasting memories were made during the parade or days following the Calder Cup win?
Bjorkstrand: For me it was the team parties we had the following days after winning. We had a great group of guys on the team and there were lots of good memories celebrating the championship we won together.
Brown: The whole celebration was at once a blur and something I remember so vividly – there were so many moments…all the great games during the run with so many dramatic finishes, getting to fly on the CBJ plane out to California for the Western Conference Finals, getting to live a dream and call a championship, drinking from the Calder Cup, the hazy celebration thereafter, seeing the fans' reaction on the day of our championship rally, meeting fellow Syracuse Orangeman Jim Brown just before the parade, the surreal feeling of the parade itself, receiving our rings…the list goes on and on. I'll never forget that amazing season and will always be thankful to have found my way to Cleveland to be a part of it four short years ago. This is a truly special organization and a truly special city and from that season on, it has in every sense become home to me.
Ostrowski: There are so many it would take me forever to list them all. However, my fondest memories of both the Monsters and Cavs championships took place in the former VIP Club (now Westfield Champions Club) inside The Q (now RMFH). For the Monsters game, after we all celebrated on the ice, we headed up to the VIP Club for a post-game celebration as the players, coaches and Jackets hockey staff were kind enough to let us 'borrow' the Cup. It was there as we celebrated, and we were able to drink adult beverages from the Cup. Amazing.
Then ironically, we were in the VIP club again eight nights later for Game 7 for the Cavs game in Golden State. We had a full team member watch party up there and obviously everyone knows about how close that game was the entire way. Being up there once we finally won the championship and looking out into the bowl with a fully packed watch party, as well as a packed Gateway Plaza was simply one of the most incredible moments of my life. So, the VIP Club was a pretty cool place that year!
Back to All