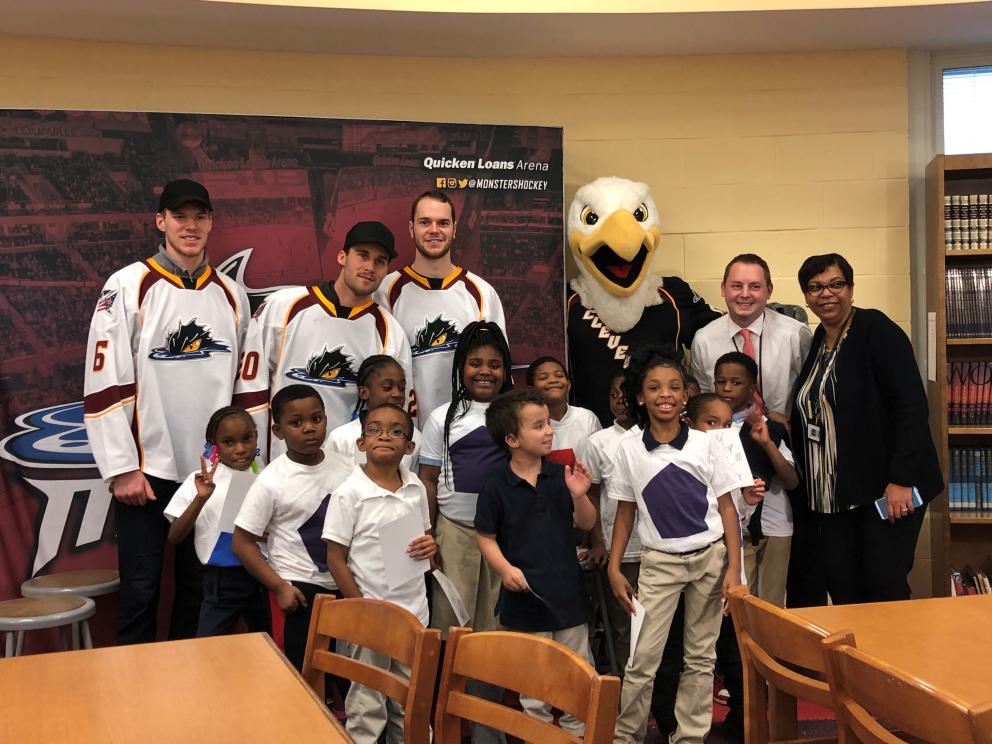 Monsters Launch New Stem Learning Program
Nov 20, 2018
Classroom initiative, with support from Great Lakes Science Center, to impact 4,000 students across five school districts in inaugural year
The Cleveland Monsters, AHL affiliate of the NHL's Columbus Blue Jackets, unveiled their new pilot STEM (Science, Technology, Engineering, and Mathematics) Learning program at a media event at Hannah Gibbons Nottingham School Tuesday afternoon. As part of the announcement, Monsters players Ryan Collins, Sam Vigneault and Justin Scott were present and participated in the learning activities during the event.
The program, which will impact 4,000 second grade students across five Northeast Ohio school districts, will include a five-hour curriculum focused on engaging students in the areas of literacy, math, science, and physical fitness through hands-on activities related to the sport of hockey. Students will be tasked with investigating the physics behind the game, measures taken to enhance physical fitness and improve player safety, and related topics. Upon conclusion of the program, students present their findings to their classmates and learn about various careers in the professional sports industry.
"We are thrilled to partner with Great Lakes Science Center and their staff of experts to create the new Monsters STEM learning program," said Monsters VP of Marketing and Communications Pam Frasco. "We believe this initiative will provide an engaging and fun classroom experience for all participating students."
"The Science Center is always happy to work with community partners who are as excited as we are about bringing STEM to a wider audience," said Science Center President and CEO Kirsten Ellenbogen. "There's a natural intersection between science and sports, and programs like this one give us the chance to highlight the STEM skills required for so many sports careers. From trainers and statistical analysts to the physics of the sport itself, we love the opportunity to show the connection and inspire these second graders."
Each participating school within the five districts will receive a kit presented in a Monsters STEM hockey bag that comes with all items necessary to complete the program, including materials to build a mock table top hockey rink. A digital version of the curriculum will also be made available with the hard kits for all participating classrooms.
The new Monsters STEM program is made possible thanks to a $10,000 donation from the Monsters Community Fund. The curriculum covered in the program was designed by Great Lakes Science Center to help second grade students gain the knowledge and skills called for in Ohio's Learning Standards.
Upon completion of the curriculum, all students will be invited to attend a future Monsters game.
Learn more about the STEM program by visiting www.clevelandmonsters.com/STEM
Back to All