Players' Corner: Steve Johnson Letter to Fans
Apr 23, 2020
Hey Monsters Fans- how are we doing? It's been a minute!
I hope all of you are staying healthy and safe during this tough time. We are truly navigating through uncharted waters right now, and it can be hard at times. However, we are all in the same boat and will get through this together!
I wanted to reach out and connect with you all during this downtime to write a little about myself joining the Monsters, what I am up to during this time, and to talk about my passion outside of hockey - flying planes.
As many of you know, I joined the team back in December. I was very excited to become a Monster and meet all my new teammates. Up to that point, I had never been to Cleveland before and had only heard rumors of the city being great in terms things to do and their sporting events. I can tell you firsthand that everything I heard was correct. I remember my first game at Rocket Mortgage FieldHouse and a big thing that stood out was how packed the place was.
The arena is awesome and truly one of a kind. The energy and atmosphere are phenomenal, and that is directly attributed to all of you!! All my teammates made my transition onto the Monsters very easy for me, and I felt very comfortable right away. The coaches and staff also made it easy for me in terms of how we want to play and instilled confidence in me from the start. I am very grateful for my teammates, coaches, staff, and especially the fans.
I am currently back home in Minnesota trying to make the most of this time. At first, it was hard to know what to do with all my free time. During the season, there is pretty much a structured schedule for every day and now we all had to find and develop a new routine to "stay with it," right Coach Eaves? I have been trying to stay in shape by going to my local high school track, biking, and using other equipment that I have around the house.
I have also been logging some time on my phone and computer catching up and staying in contact with friends and family through FaceTime and Zoom. Overall, I think it's extremely important to try to make the best out of any situation that you may find yourself in, and that remains especially true during these times.
On top of all of this, I have been continuing with my passion outside of hockey- being a pilot! I often get asked, "Where did you find interest in being a pilot?" Well, the short answer is, my Dad. My Dad and I are very close, and he has been a captain at Delta Airlines for over 30 years. I have always looked up to him, and he is where I found my inspiration to fly. I went to college at the University of Minnesota; however, they do not offer aviation as a major. After I graduated, I figured it would be a good time to try out flying and see if I like it. As it turns out, I fell in love.
There is something about flying up above and being in total control. You can go where you want, see what you want to see, and enjoy it with the people you are with. I have taken up a lot of my buddies and former teammates, and they all really enjoy it. I got my Private Pilot license last summer and am now in the midst of getting my "Instrument rating" which will allow me to fly in the clouds and bad weather (while being safe, of course). We call this flying in the "soup" where you can't see anything around you and must rely totally on your instruments in the cockpit. So where do I want to take this passion of mine? I am not totally sure, but I can see myself following in the footsteps of my dad and becoming an airline pilot once my hockey career is over.
Thank you guys for your time and for reading this. I miss Cleveland and having the privilege to play in front of the AWESOME fans! I hope this letter finds you well and remember to always remain positive even in hard times. I also want to add a special thank you to all the doctors, nurses, and people who are on the front lines. Your work is very courageous, and we thank you for all that you do.
Sincerely,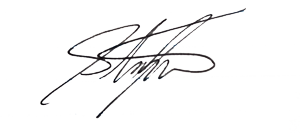 Back to All